From the first simple lift design, elevator design has advanced significantly. Elevators in the modern era, offers practical vertical mobility but also more creative designs. Architects and designers have redesigned the elevators to improve aesthetics, efficient, and technology. In this article, you will read several innovative elevator design concepts that are influencing the current vertical transportation landscape.
Upgraded Cabin Looks
Elevator cab interior design these days are not just plain wooden or metallic boxes anymore. They have been upgraded by designers into modern, stylish, and eye-catching concepts that can seamlessly blend into any décor especially ultramodern places. These cabs feature modern materials, textured floorings, various panel finishes and even mirrored walls.
Exterior Visibility
Nowadays, elevator shafts, its moving parts, and exteriors are being showcase as one of the buildings unique feature and gives more architectural character to it with lasting impression. These elevators may have brilliant colours, unusual shapes and patterns, and some are interactive.
Here are some elevators that are truly unique:
The glass elevator in one of the world's tallest buildings the Willis Tower the skyscraper in Chicago, it let the passenger see the panoramic view of the city.
The remarkable pill-like elevator in Mercedes-Benz museum where it can take you show you the history of Mercedes-Benz while it is moving.
The biggest elevator At the Jio World Centre in Mumbai, India that can fit up to 235 passengers.
Personalize Your Elevator Experience
Designers are reinventing elevators and let riders have unique journey experience since using them is often uninteresting. Users can now have control with lighting effects, music playlists, and they may choose which wall design to put on their lift.
Smart Technology
Smart technology are being integrated into modern elevator to increase efficiency and sustainability. They are being more environmentally friendly using natural materials. Designers improved it to reduce energy use, optimize traffic flow, and added smart sensors into elevator doors.
Modern elevator goes beyond mere functionality; it aims to be more than just a mode of transportation but also to become an essential components of architectural design with improved technology and creativity.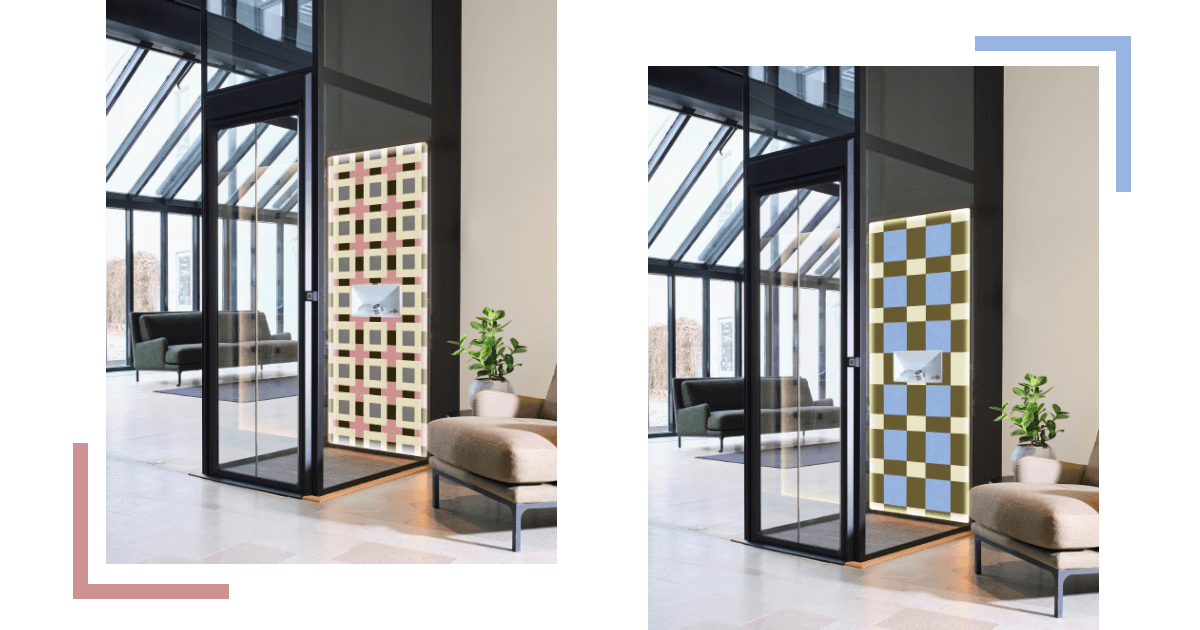 Aesthetic Uplift: Lift Design Ideas
Elevators might not be the first thing that comes to mind when considering design, but they should be.
Aside from bringing tranquil travel taking you from point A to point B, lift design creates sophistication and elegance and become one of the focal points of an establishment, whether it is a fancy hotel, office building, or a residential building.
1.Shaftless
A residential elevator are usually has shaftless design because it is perfect for smaller spaces like homes because it has unique design, that is both modern and contemporary. Usually, it is glass lift that helps to aid in natural light to add more comfort and inviting vibe. Some has even mirrored elevator ceilings and floorings
2. Vintage design
Old is gold, even in the modern era vintage looking design is still in because it gives timeless elegance the can blend to its surroundings. It is usually contains historically relevant art, color palettes, or any cultural relevant art to the nation or region.
3. Colourful
Elevator panels can now be more than just a plain metallic color, it can have splash of color that will give more appealing mood to the entire structure.
4. Futuristic
Another design that will make your lift standout is the futuristic design. It is usual a combination of architecture and technology in an innovative way. It has simple lines and colors but at the same time enrich the whole look of the structure.
5. Modern and Contemporary
Modern and Contemporary lift design emphasize sleek and minimalist aesthetics. It is incorporated with advanced technology, smart safety systems, and latest architectural and interior designs that blend well with the building's overall look.
There are some brands that offer design services for your elevator, they can give you different design ideas.
Elevator car interior design
Elevator interior is the aesthetic and functionality design of its cab. It gives the users the sense of comfort and beauty while travelling vertically. These days, it also captivate visitors attention aside from your wall showcasing art deco.
Following are some essential components and ideas for designing an elevator car's interior:
1. Accessibility
Accessibility for all is one of the designs that should be considered. Handrails, braille buttons, audio announcements, and space for wheelchair users are the elements of accessible vertical transportation.
2. Safety
Aside from performance and aesthetics, safety is one of the most important designs of modern elevators. They have smart doors, safety sensors, and emergency buttons.
3. Color Scheme
Color scheme of the elevator has big effects with the cabs atmosphere. Brighter colors provide an impression of bigger space and more airy while darker hues can evoke a sense of closeness. Whether it is a home elevator or office elevator the color palette should blend well with the structure's architectural style.
4. Lightings
Lightings enhance the mood and visibility within the cabin. Some home elevators have smart app that can control the lights depend on the owners liking.
5. Walls and Floorings
Elevator walls can now be customizable to any design you want or you may choose among the available designs of your chosen brand. For the floorings, it could be elephant carpet, rubber, marble tiles, etc. that are durable, easy to clean, and slip-resistant.
Elevator car's interior decor should let the users experience comfort, convenience, and safety.